Winter is for fencing!
B-Rad and I have been fixing fence this week. Don't ask me why "fixing fence" is the correct term, it just is—even though we all know it's not. This farm has 40 year old wood fencing and that shows in a lot of places. Our big boy Wynter is just a beast on fences! They are a mere "suggestion" in his mind. Lord help me. Last winter B-Rad put up t-posts with wire horse fence to create our goat pastures and those have also been trashed because the horses share a fence with the goats. I must state here, no really, I must, that I said we needed an electric line at the top of those fences but I was pooh-poohed.
Even if it's a bit bendy, I'm super thankful for the wire horse fence though! In Colorado we bought a sheep farm and it had it's 15 acres perimeter fenced and cross fenced into smaller pastures in what's called "field fencing." Horse people aren't big fans of this stuff. As someone who raised sheep, I wasn't a big fan either—lambs could come and go as they pleased for a few weeks until they grew up a bit.
This is wire horse fence, the holes are 2x4"—which means animals don't get caught in it:
This is wire field fence, the holes are maybe 6x6" at the top. It gradually gets smaller at the bottom but still big enough for horses to get their feet stuck in weird accidents:
Our goal in CO had been to replace the field fence with horse fence but it's super expensive and time consuming.
So, the stories! Celita, my big red mare that I left back in Colorado with a friend got freaked and in a panic half jumped, half scrambled over a field fence—promptly getting her feet caught in it. She was laying completely upside down with all 4 feet tangled in the fence like this (this isn't her):
I saw it all happen and was running in what felt like molasses to get to her. I stood on the other side of the wire fence and looked down at her. She looked up at me, so trusting, just waiting. I pushed a little on a couple of her feet but because of her position, with her legs that far down toward her body, there was no give, I couldn't push down to help her get loose. Then I realized that her feet were so jammed into the fence that I wouldn't be able to get them out anyway. Good God. I looked into her eyes, feeling panicky, when suddenly the feeling washed over me that I was in the line of fire, I was leaning over a horse with her legs coiled tight as a spring. An ex-race horse to boot. I stepped back and with tears running down my cheeks, I said to her, "I don't know what to do!" She looked back at me and quick as a cat slammed on the gas, her powerful body flying into action, legs everywhere all at once. Somehow she extricated herself from the fence and lunged to her feet, blowing hard, blood dripping down her legs. Miraculously the vet just bandaged her up and no stitches were needed.
The second story: After that horrible experience, we bought a pair of wire cutters that lived in our mudroom. One day B-Rad called my phone, he was outside and I was in the house.
In an overly calm, low voice he said, "Would you come out to pasture 2 please? Wynter has his foot stuck in the fence." I grabbed up the clippers and tore out of the house. Half way there Wynter suddenly threw up his head and I realized I needed to take calming breaths and walk the rest of the way. Brad was down on his knees on the foot side of the fence and talking, talking, talking. A few clips and he was free with no issues and no injuries. That could have been a disaster for the fence and for Wynter. If you've met him, you know how big he is, he could have taken down a full line of fence with little trouble, shredding himself in the process.
All that to say, I'm happy for horse fencing, even if it's a bit wonky right now.
•••
I was asked this week what did an "affirming therapist" mean? I said pro LGBTQ+, would be safe and kind to work with and not want to send the client to conversion therapy at a local church. The person said, "I thought it might mean they would say, "You're good, no really! You're good! Haaaaaa!" And of course that led me to thinking about my mom and how she would always build us up. She was such a "power of positive thinking" person and she had us saying mantras on the way to school way back in the early 80s! She loved Robert Schuller and his predecessor Norman Vincent Peale.
Speaking of Mom, I went to Dad's to go through jewelry on Thursday and was a bawling mess by the end of the day. Poor Lu was with me and I think she felt like this after:
I also "rescued" some plants from their house, Dad doesn't really know much about plants and they were looking sad. I brought these 3 home:
The violet is huge and I really don't know how old...it was big when my Mom inherited it after my Grandma passed 25 years ago. Who knew plants lived that long? The arrowhead plant was something that I found on Mom's screened in porch this fall. She was in bed a lot then and I would come over to pretty up her room, cleaning and dusting and rearranging her things. We would sing to Neil Sedaka songs together and she would tell me about various knick knacks in her room. I cleaned this big plant up, pruned it a bit, and put it in her table in front of the window—she was so happy to see it ❤️
And then, because I'm obsessive like that, I started going through the plant arrangements from the funeral and separating them into pots. Those plants aren't really meant to survive for any length of time I think and they are in silly containers with no drainage, but hey, green thumb over here, so I dug out the things I wanted to save and ended up with:
At this point, absolutely anything that reminds me of Mom is good for my soul. It helps me feel grounded and calm.
My aunt and I went to Mom's gravesite and saw this gorgeous sky:
I have to say, I'm still really struggling with her body being there. She wanted to be cremated but at the end agreed to a burial to appease my dad who says cremation isn't biblical.
It shouldn't matter. It shouldn't. She's not there. Any words of wisdom?
On the same day, my aunt and I baked gluten free peasant bread, they cool upside down, I don't remember why:
Go check out this recipe, it's so easy! No knead because it's GF and it only needs to rise once!
•••
Got to get the sunset pics over the big old barn next door while I can, someday it will be replaced with a bunch of subdivision homes:
So many good sunrises and sunsets lately! I feel like I've been posting one every week! Sunrise over the ponds:
•••
And while it still seems like winter, at least a North Carolina winter :-) I noticed this yesterday:
OMG! That's on a maple tree! I looked at the pollen app I use and it said it was a 3 out of 12! Are you kidding me? Doesn't that seem way too early? Shouldn't it be zero still?
•••
I was seriously considering leaving my Christmas tree up this year and decorating it for Valentine's Day and spring and...I don't know what else but cooler heads prevailed dammit. So I went shopping for Valentine's Day instead and bought some placemats, napkins and red hand towels that say HUGS on one and KISSES on the other:
Maybe next year I need to find a smaller Christmas tree to leave up all year lol. I know quite a few people that went all out and bought multiple trees during the after Christmas sales for next year! We need all the happy we can get right?
•••
What a funny post, a farm full of animals, almost no pictures of them! What in the world? I will do better next week. This weekend I'm going to relax like my girl I Love Lucy here:
MEMES OF THE WEEK!
Remember how I talked about how I wanted to build a new dining room table a couple weeks ago? Now wouldn't this be the perfect idea for it? OMG! I'm in love!
And finally, let's discuss:
This is the reason why I'm literally re-watching Home Improvement episodes from the early 1990s—it's sweet and light! Other go-to shows: Friends, Seinfeld, Will and Grace, Big Bang Theory, Gilmore Girls... Wondering what your favorites "brain dead" shows are?
The winner will be announced next week! This is the smallest of the most recent paintings I've done. The original was 22x28" but this little giveaway print is 8x10. However! I'll be giving away a print of SunGod (red horse) that is 6x15" and one of Infinity Blue that is 8x24". If you're new, you can see those here! Pass this email along so your friends can enter too! (If you're a subscriber, you're automatically entered.)

Wanna work with me?
Here's the info:
Equine Gestalt Coaching Sessions ($25 off your first session)
NeurOptimal Neurofeedback (half off your first session)
Reiki Sessions (contact me directly) (half off your first session)
•••
Purchase originals and prints of my artwork
Purchase tees and hoodies with my artwork
•••
Thank you for reading :-) My blog is reader-supported—that's you friends!
If a friend forwarded you this email, you can subscribe here.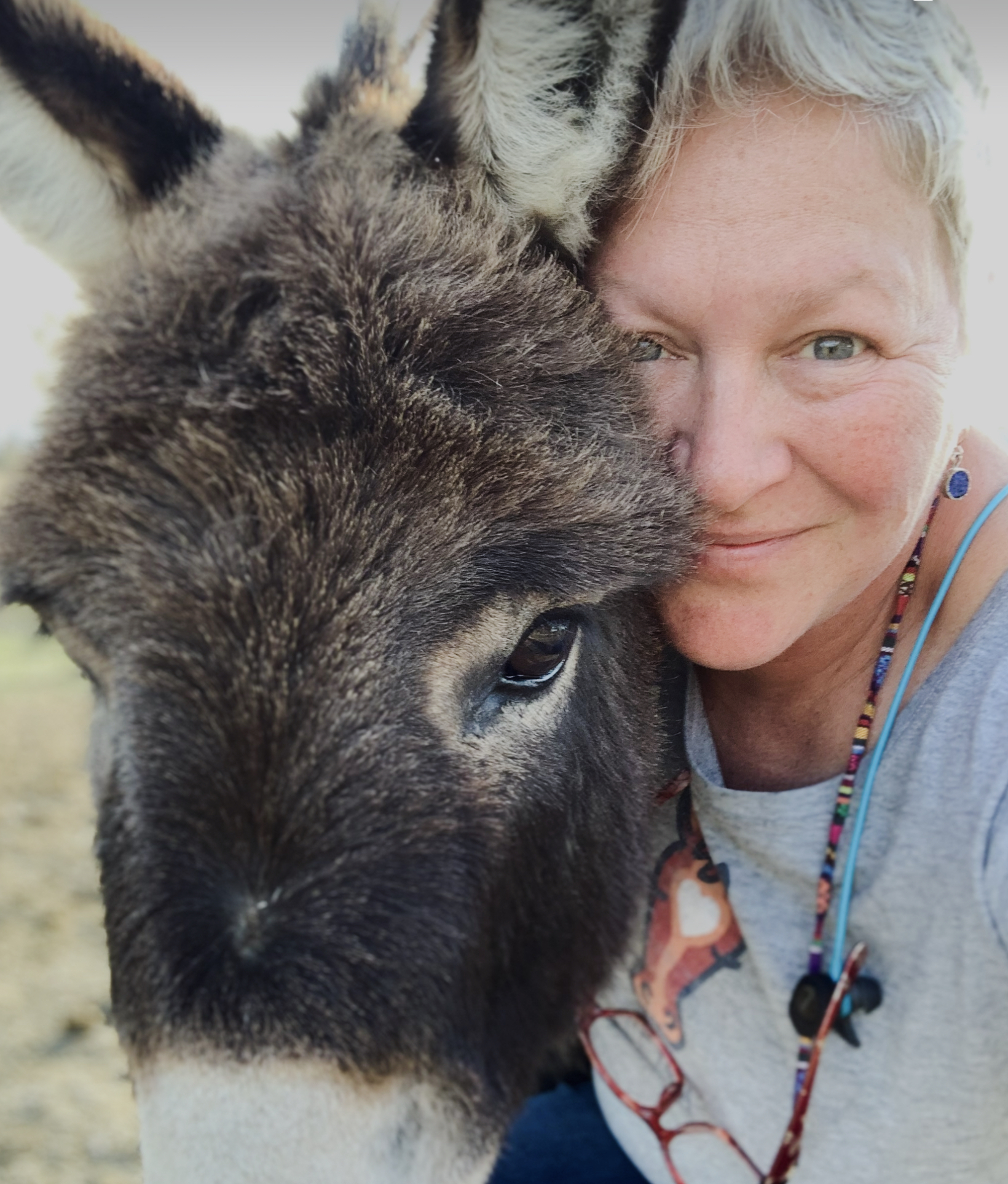 Let me give you a big ol' hug!
Join a group of like minded folks who get weekly letters that feel like a great big hug, ranch videos, and free goodies from me.