Early May on the farm (newsletter)
Happy Saturday friends!
Remember a few weeks back I talked about how Wynter used his big ol' body to push Rayn around all the time and how much it ticked her off? This is the other side of their relationship
If it weren't for this, I'd be figuring out a way to separate them into different pastures so they didn't have to be together.
Sweetness is for sure a part of it all but sometimes I wonder if he would like a friend his size. I've asked and have never gotten a clear, "YES!" so I haven't pursued it. I think there might be a part of him that likes being an "only" donkey.

For those of you praying and sending good thoughts and healing energy my mom's way—the CT scan yesterday revealed (drumroll please...) NO NEW GROWTH! Whoohoo! Yippee! Yeehaw! Happy dance! Thank you all and keep it coming!
My office is open for neurofeedback now, yay! I still haven't painted the front doors—I can't decide on the color. I thought I was going to paint the new door black to match the original but...ugh, it just doesn't feel like me, it's not my happy color. My parents have a neighbor with a grey house and yellow doors that I really like so I got some paint samples made:

The brighter yellow on the top is prettier with the grey and ok with the pink and the lighter yellow is prettier with the pink and ok with the grey. There is a purple swatch up there too—I really thought I'd love that the most but it feels "meh" with the grey. Opinions?
Still in love with the pink! So good for my soul :-) The neurofeedback recliner is behind me, in the back right corner in this photo. From here you can see right out to the pond:

We moved this set from the back of the house (where the view is the forest) to the front under the huge Japanese Maple, with a view of the pond. I'm loving it there. (See the yellow swatch on the black door? That's the lighter yellow—it's just ok with the grey don't you think?)

Speaking of the pond, look what a pair of geese did! Everyday there for awhile, we'd go out in the morning and find broken open eggs, licked clean. Some smart creature knew right where to go for a midnight feast. But these two managed to hide their nest somewhere safe. Now, will these 4 babies survive the huge turtles in the ponds? So far so good!

We've been seeing a lot of different birds now that it's spring. I *think* this is an Eastern Phoebe, a type of flycatcher. It has a funny little tail bob action that makes me think it's the correct identification. I still have my original Eastern Birds book by Peterson Field Guides from when I lived in NC before. It sure is useful for the farm. I suppose we have so many because we have so much water around us.

GOATS:

This girl is becoming quirkier by the day. She thinks her job in life is to be a HAT. This is daughter Nichole with Dancer:
Yesterday I was sitting in a chair with her on my lap when she suddenly looked at me with her wild blue eyes and RAN up my chest, skipped onto my shoulder, and then started onto the top of my head. Luckily I was wearing my big cowboy hat and was somewhat protected. Good God. So, some training will begin now. I really don't want to raise a goat that thinks my head is her perch!

The babies are in that independent phase of their life. I call them from across the field and they come right over, who cares if mom is near? To me that means they feel safe in their lives. They live with the entire group of 8 girls during the day and then are in the birthing area with their moms at night. Eventually they will be big enough that I'll put them in with everyone for nighttime too but I'm waiting until they are bigger. Tessa was with lambs at our CO farm but never goats. I'm taking it slowly. She does great with the adults now but I'm being super careful with the babies.

Galaxy in the middle of all those goats and her mother is outside. And always Dancer makes me laugh, "whatchadoin?" goat photobomb!

Mini me:

This was the first time I saw Dancer drink water:

And they are both super interested in what mom is eating. I will often find them with bits of hay sticking out of their mouths.

I love it when I call and she looks up and comes running!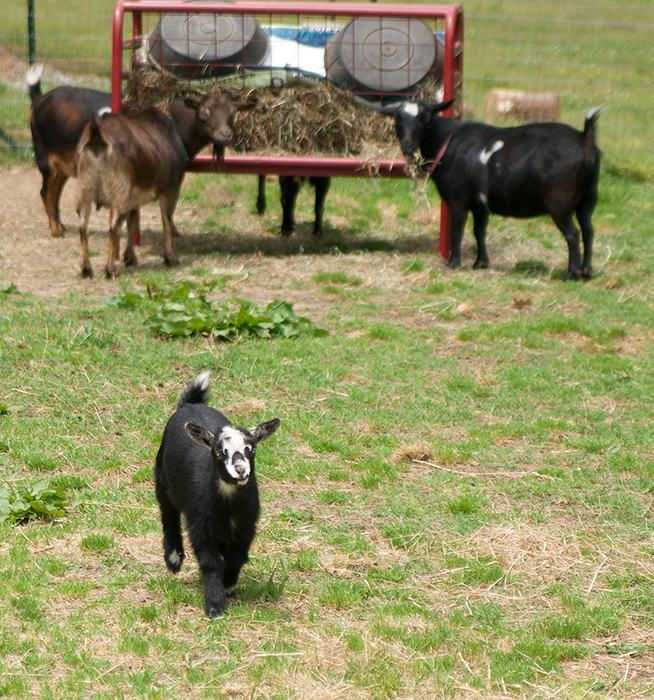 Did you want me?

And speaking of baby goats...these two were bred this week:

Raven on left and Piper on right, look at those lips lol. Raven is Alaska's twin and will be a second time mom. She had triplets last time. I told her she was allowed to have two tiny viable baby girls. Three is too much for her, she's small. Piper will be a first time mom and I told her she could have 2 or 3 tiny viable baby girls lol I might as well tell them what I want! It was harder to catch them in "standing heat" this time, the strongest heat is in the fall. If all goes well, there will be new baby goats the end of September.

ODDS and ENDS:
You know you live in the jungle when a tree frog appears on the sidelight to the front door. Remember I lived in NC from 1983—2003, but I've NEVER seen a tree frog except at a zoo!

I had completely forgotten how quickly things will compost given the right circumstances! We've not been adding anything to the pile on the right for about 2 months now, and it's probably only been there 4 months total. We turned it every week or two and it was steaming on the inside, pretty cool. Now the steam is almost gone and it just smells like dirt—it's also reduced in size by more than half! In dry Colorado it would take a year for just the bottom foot of a big pile to become compost!

Office friends:

One of the things I was unsure about when we moved here was the private boarding barn next door. They turn the horses out into pastures owned by the other 3 people in our neighborhood and of course pastures on their own property too. Would it feel weird to see people moving horses around all the time? Would it feel invasive to have so many people next door riding? Happy to report, no, it's sweet. A lot of the owners are teen girls and some women. They are all very nice and the whole neighborhood has this soothing pastoral feel to it. They move 14 horses in and out of that big barn twice a day and I rarely see them but when I do catch a glimpse of them walking horses back to the barn, it just feels good:

Mostly the people all ride in the big ring but sometimes they go out and ride around the neighborhood. It's hard to explain why I'm always happy to see them...Maybe it's just nice to know that other people love their horses too :-)

I was out this week with my camera and realized there were a million teeny tiny blooms on the ground, patches of different kinds. They are all weeds and "shouldn't" be here but whatever, look how pretty the little flowers are!

The honeysuckle climbs all over the place in the forest and smells SO SWEET!

The Azaleas are coming to an end, this color is my mom's favorite!

I love seeing how the Japanese Maple's leaves change colors as they mature over the season:

Anyone know how to save the figs from the squirrels? We have a HUGE fig and it's super prolific but we didn't get any last year because of the squirrels. I'm all about sharing with the wildlife but I don't think they are thinking of sharing with me at all lol

MEMES:
Brad's birthday was this week and I bought him Apple Airpods. I left the shipping box unopened in my closet until I needed to wrap them. Opened the shipping box and thought, "Huh, this looks like it's been opened and retaped..." and dammit, it had been—the box was empty! I called Target and they are looking into it but I haven't heard anything yet. I'm so upset! It was a Target box with one of those battery stickers on the outside. It was light so of course it's a small electronic! I guess if they can't make this right, I will dispute the charge.


GIVEAWAY:
This week's winner of the horse print is Irene DeZwaan! Keep an eye on your email Irene!

See all of the prints of my original watercolors in my Etsy store!
Thank you for reading :-) My blog is reader-supported—that's you my wonderful friends! The best way to support my work locally (Research Triangle area of NC) is:

I'm a life coach and partner with horses to help people heal—schedule an Equine Gestalt Coaching session.
Or, schedule a NeurOptimal Neurofeedback session.
Commission a painting or bring your logo idea to life,
buy a tshirt or a print with my artwork.

Out of state?
Call for Zoom or phone coaching (feeling anxious, stuck, or out of sorts?) Remember to forward this email to a friend and Subscribe to my YouTube channel!

If a friend forwarded you this email, you can subscribe here.
Let me give you a big ol' hug!
Join a group of like minded folks who get weekly letters that feel like a great big hug, ranch videos, and free goodies from me.