My donkey is mad at me 😂
Happy almost Valentine's Day! I'm thinking that a 20 year old, single, male stocker set this display up in my local grocery store, what do you think? Because who else would put that sign and some champagne next to a freezer case of fish sticks? 😂
It makes me laugh every time I think about it!
We've been in a bit of a fight with our mini donkey, Sweetness lately. As you know, the two horses get a bunch of grain morning and evening to keep their weight but Sweetness doesn't need that and in fact, it's bad for him and actually hurts his tummy. He of course gets treats from me instead :-) But as soon as I turn my back, he is at the horse's feed buckets, trying to finesse them off the fence rail using his teeth. He's gotten really good at it and both the horses are willing to share with him once he gets the buckets on the ground. Little monkey. So I tried just putting the buckets on the other side of the fence rail. It worked for that feeding but I could see his wheels turning, he was going to figure it out and then he'd have it all to himself because he can put his head through the lower fence rails but the horses can't! Back to the drawing board... I realized I needed a way to fasten the buckets to the rail. Using baling twine (farmer's best friend) and a couple of carabiners, I fixed it. He can slide the buckets back and forth along the rail but can't get them off. Heehee! Of course he's not happy with me...
•••
It's the little things in life that make me smile, like the fish sticks or this little dried heart shaped leaf in the pasture:


I found my favorite quilt that was packed away in 2020 in preparation for putting the ranch on the market so we could move here. My Grandma gave it to me when I was in elementary school. Pink dogwood blossoms, so beautiful:

•••
Brad and I have been sleeping separately for a couple of months–first it was his sudden snoring issue (send your tried and true fixes to me!) and then he caught covid. When that happened he moved from our loft guest room to the main bedroom so he could completely quarantine (with doors) and have a full bathroom and his attached office.
I took over the loft:


It's a nice size space and has always had two twin beds for guests. But now that I'm sleeping in one of them, I realized: twins are not meant for adults! Especially an adult that sleeps with 7 pillows just so her neck won't hurt. So I spent the weekend girling it up. I bought one of those kits that turn your twin into a king (5" shorter than a king but close enough) and gave myself a little sitting area. And while that Queen Anne coffee table isn't so much my style–it was my Grandma's, along with that African violet which lived on that actual table for many years until Grandma died and then Mom took it over. And now Mom is gone and I have it. Crazy to think that plant has lived with 3 generations of women in my family.
I also reinstalled my magic cherry tree:
The cherry tree story: I occasionally make Christmas ornaments. Some have been wood, some clay, most recently I have felted them. I love them. I want them up all year. So on my Colorado ranch I started keeping an eye out for the perfect fallen limb to hang. But Longmont is on the plains of Colorado and we didn't have a lot of trees. I figured something would come my way eventually. One winter day I was driving my little Kawasaki Mule (like a little 4 wheeler with a bed to haul hay) and I needed to back up. Thinking I was fine, I threw it into reverse, backed up, and heard a cracking sound...Turned around in my seat, didn't see anything so off I went to finish chores. The next day I found one of our tiny cherry trees snapped off at the base. What the...
Ohhhhhh. Sigh. A few days later I passed my dead cherry tree and realized it was the perfect size and shape for hanging! I even packed it up to move it here :-) 18 months later and my NC house is becoming more and more my home.
•••

I also baked bread last weekend–a no knead parmesan peasant bread that my Aunt Katy introduced me to. This is only the second time I've made it and it is just heavenly, especially sliced thin and toasted! AND!!! It's gluten free!
•••

My favorite YouTube channel Weed 'Em & Reap is having baby goats! Because I didn't know what was going to happen with Mom and I really didn't want to be in the middle of hospice with Mom while in baby goat season, I opted not to breed last fall. So here we are in the beginning of spring and I'm both relieved to not be having any babies and also sad to not be having any babies.

The goats are entering into the spring season aka the Dirty Stuffed Animal season. They are starting to shed and look like a toddler left their stuffy out in the rain ;-) Then they rub their bodies along the fence which leaves the fences wearing their fur:


And it is actually spring here in the south. I'm not sure what this is, I spotted it across a parking lot, maybe a redbud tree?


And if I wasn't completely sure about it being spring, the wild ducks are ramping up for spring—the males are incessantly chasing the females around. The females get sick of it, run into the water with the males hot on their tails and that's when the females dive under water, completely disappearing for a bit and then popping up somewhere else! Eventually this will happen with the geese too. It's the only way the females get a break from their overly hormonal mates!
THE MEMES!
Speaking of spring already being here:
I have seen this meme going around on facebook for a couple of weeks and could not figure out why it was funny, suddenly today I got it:
For my Colorado friends! For others: there are grocery stores in Colorado that don't offer bags at all. If you forget your bags your options are to buy the reusable ones, use your shirt, use one of the boxes that the food comes to the stores in (which are conveniently placed at the front of the store.) I wonder if there are other places that do this?
•••
Thinking about starting or continuing the journey of finding her? Let's talk!
Here's the info and you can have all three!:
Equine Gestalt Coaching Sessions ($125/hr but $25 off your first session)
NeurOptimal Neurofeedback ($70/45 min but half off your first session)
Reiki Sessions (contact me directly) ($90/hr but half off your first session)
•••
Purchase originals and prints of my artwork
Purchase tees and hoodies with my artwork
•••
Thank you for reading :-) My blog is reader-supported—that's you, friends!
If a friend forwarded you this email, you can subscribe here.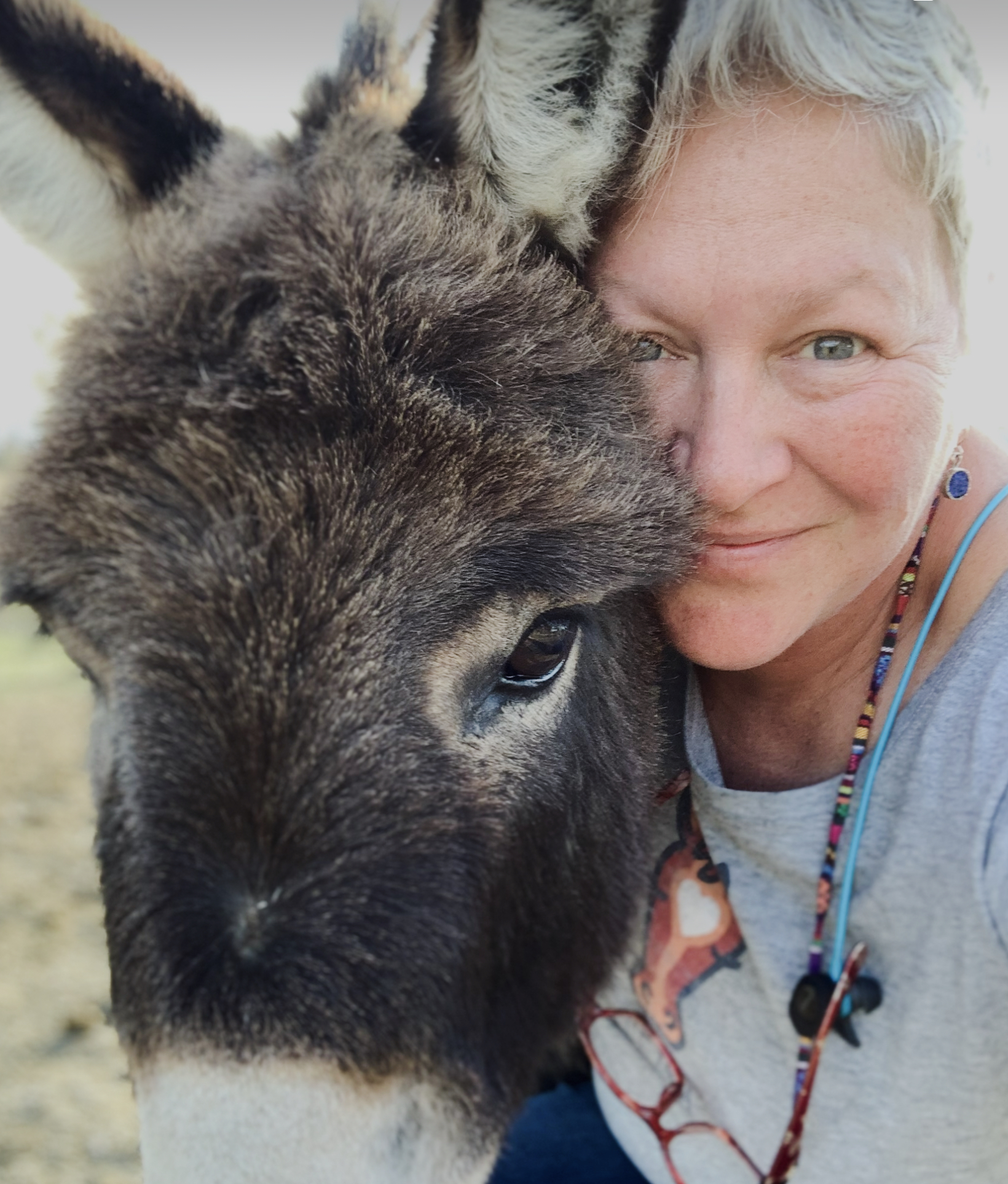 Let me give you a big ol' hug!
Join a group of like minded folks who get weekly letters that feel like a great big hug, ranch videos, and free goodies from me.